Instagram and other social media sites are flooded with images of food that don't just tempt our appetites – they captivate the eyes of thousands (sometimes millions)! To capture the attention of their guests, event planners in Dallas have rising expectations about the meals served to their guests as well as the event rentals and table top décor that sets the scene for a plated meal. The event rentals that you choose to decorate your table top are important to creating a fulfilling experience for guests who expect visually appealing and conscious choices. Make your event stand out from the rest in 2019 with the trendiest event rentals in Dallas!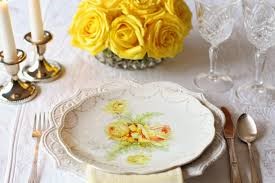 Event Rentals: Antique and Vintage
Nostalgia is powerful! We have seen a big demand for China that is reminiscent of your grandmother's collection. It brings back great memories for all your guests and reminds them of simpler times. Of course, we aren't saying to ransack her china hutch – instead look for traditional floral patterns, etched glass, and rediscovered silver flatware that is heirloom inspired as your party supplies.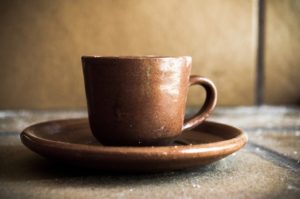 Event Rentals: Artisan Dinnerware
Handmade dinnerware complete with the slightest of imperfections brings character to the table. The recent demand for hand-thrown pottery in Dallas is huge – the artful technique and original look create for simple but impactful pieces on your table top. The hand-crafted look is very important when the poetic imperfection is the defining element to dinnerware and drinkware.
Event Rentals: Matte Finish
The finish on each piece can drastically change the look of a tabletop. Recently, matte finishes are preferred over glossy, particularly with neutral colors.
Event Rentals: Customized Pieces
Every aspect of your event should be a photo opportunity for guests. Creating custom tabletop pieces with your logo are perfect for social media posting – and great for branding at a corporate event. Local services that offer custom made pieces are now more convenient and easier to use than ever.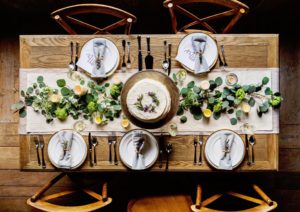 Event Rentals: Natural Colors and Textures
Earthy inspired tabletop pieces are on-trend right now. This includes rustic wooden pieces, cast-iron bowls, concrete, stone, slate and natural colored glazes. Choosing these party rentals will convey an organic ambiance on your tabletop.
Event Rentals: Bar Tools
Mixology-oriented barware such as stirrers and metal straws aren't just for behind the bar anymore. Guests love quirky cocktail picks and other unique items they wouldn't typically find placed on the table.
Event Rentals: Premium Tea and Coffee Items
Guests are looking for quality coffee and tea components – no more instant coffee or simple tea bags. Search for unique teapots, coffee pots, tea boxes, vintage-looking mugs and loose-leaf tea diffusers for your next event.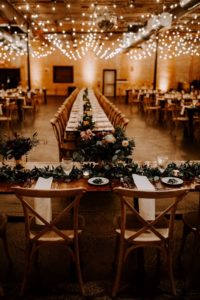 Event Rentals: Plants
Florals have always been a must at events in Dallas. However, in 2019 event planners in Dallas are looking for lots of greenery on their table top! Plants have the power to transform any space – depending on the plant selection they can create an elegant, relaxing, or welcoming atmosphere. Regardless of the desired ambiance, guests want to see greener tables and greener plates in 2019.
Pattern-Driven Event Rentals:
The rapid growth for the need for self-expression in decor is trickling into tabletop displays. Freely mixing and matching colors and patterns is a creative way of making a bold statement. The 'maximalist aesthetic' began about a year ago and has taking social media by storm.
Don't fall behind on tabletop trends in 2019. Turn any gathering into a memorable occasion. Wow your guests with unique and photo-worthy table settings that are stylish and welcoming. Allow our well-equipped team at The Party Resource to make your event in Dallas a success. We are more than just event rentals – our well-established connections with the area's top meeting planners and event professionals will transform your idea into reality.
Along with being a rental company, The Party Resource provides a wide variety of event services such as staffing, live entertainment, full-service catering and bar services venue rentals, floral, décor and more. Our seasoned event professionals and long-time relationships with the Dallas area's top venues, meeting planners, entertainment and other event professionals allow us to provide our clients with turn-key event services, making the planning process seamless and creating an event your guests will remember