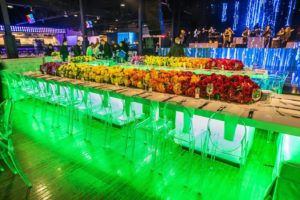 There is a great deal of pressure placed on corporate event planners to make company events memorable, beautiful and fun! However, creating unforgettable events on a regular basis is challenging when you have the same, small inventory of tables, chairs, tablecloths, etc. to work with for every corporate event. At some point, you'll need new/additional party supplies – should you purchase or call an event rental company?
Benefits of Event Rentals: The Basics
Popular event themes, trends and activities are constantly changing – renting your party supplies will help you create a more interesting event, it won't break the budget, and you won't have to store and maintain the items until you need them again.
Perhaps you just need a few more tables or chairs to add to those your company already owns, or you believe a different color of tablecloths will add the needed spark to the room. Deciding to rent items for your tablescape will allow you to personalize each event to create just the right mood. Event rentals become an even larger money saver when you start thinking about China, Chargers, Flatware and specialty tables and chairs! The best part is that you (or your colleagues) don't have to set it up OR break it down after the event!
Benefits of Event Rentals: Specialty Items
Don't underestimate the effect of lighting. Lighting, both indoor and out, can enhance the look and feel of your event. You can easily create the event of your dreams by contacting an event rental company in Dallas that offers lighting options from chandeliers to large, lighted, logo balloons to illuminated wall graphics that are great for branding.
Games let your guests interact in a fun way. Casino games or carnival games are always a favorite for team building or just for fun. Small-scale baseball, football, bowling and golf games can be rented for your event. Oversized games like Giant Jenga, Giant Connect 4 and event Giant Beer Pong will get your guests laughing and playing together. These types of items are also best to rent from an event rental company so you don't have to store them and so you can have different games and activities at each event!
If your goal is to create a unique event – specialty event rentals are a must! Patio heaters for outdoor spaces create a cozy spot for your guests to mingle and an even better s'mores dessert station. Other items like specialized bar fronts, popcorn machines, lighted dance floors and soft seating such as couches and comfy chairs for indoors and lounge furniture for outdoors can become the highlight of your event.
When looking for an event rental company, choose an organization that provides turn-key event services! It may be tempting to rent a few things from one company and a few from another. Caution, though, if you decide to rent from more than one rental company. When the party is over, someone (probably you) will have to remember exactly which items to return to which vendor. Renting from just one business reduces stress and the cost since most rental companies have a minimum delivery fee.
Needing event rentals in Dallas? The Party Resource can assist you with event rentals and anything else you need for your event such as entertainment, catering, floral and staffing! We provide turn-key event services so all you need to worry about is having a great time at your event in Dallas
Along with being a rental company , The Party Resource provides a wide variety of event services such as staffing, live entertainment, full-service catering and bar services, venue rentals , floral, décor and more. Our seasoned event professionals and long-time relationships with the Dallas area's top venues, meeting planners, entertainment and other event professionals allow us to provide our clients with turn-key event services, making the planning process seamless and creating an event your guests will remember.