Dallas Catering Rentals
It seems that as soon as temperatures cool off, event season heats up! We've been busy creating beautiful events at some of Dallas' most unique event venues like CrashedToys, The ARTISAN Terrace, Gilley's, The Sixth Floor Museum and more! We know that not only event planners and venues in Dallas are needing extra event rentals – caterers in Dallas will require extra supplies to execute larger scale events. The Party Resource is eager to help our event partners supplement their inventory with our extensive supply of catering rentals.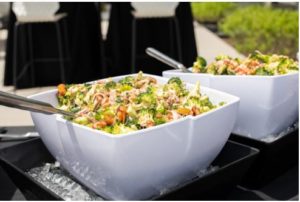 Dallas Catering Rentals: Serving bowls
The Party Resource has a variety of serving bowls in different styles and colors. Caterer's in Dallas can choose bowls to match the color scheme and aesthetic of the event. From Melamine, Bamboo to Hammered Bronze – serving bowls act as the small (but very important) details that help tie everything together. We have each style in a range of sizes, perfect for everything from a side dish to toppings.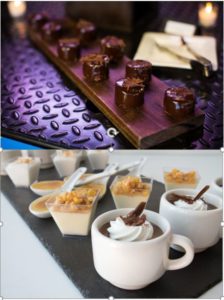 Dallas Catering Rentals: Serving Trays
Serving Trays can be used for several types of food service. They create gorgeous displays at a buffet table or food station. Using decorative serving trays in lieu of standard trays at a reception-style or seated event adds to the elegance and beauty of an event in Dallas. The Party Resource has an extensive inventory of serving trays in different styles, colors and heights. From mirrored, slate, wooden to serving trays with intricate designs – we have the perfect accent for your event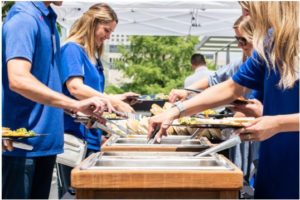 Dallas Catering Rentals: Chafing Dishes
An event caterer in Dallas is not only responsible for creating a delicious buffet meal and presenting it beautifully – they must make sure that the food maintains a consistent temperature over an extended amount of time. The most common way to achieve this is by using chafing dishes. The Party Resource has chafing dishes in a variety of styles and sizes to keep your buffet hot and stylish!
Dallas Catering Rentals: Griddles and Pans
Griddles, griddle stands and pans are often used at a chef-attended food station during an event! Need extra for a large event? The Party Resource has plenty to spare during the busy event season!
Dallas Catering Rentals: Beverage Service
Drink stations don't have to be boring – dress it up with a beautiful drink urn, carafe, insulated drink displays or drink tubs. The Party Resource also has easy to transport rentals to make and serve coffee at an event in Dallas.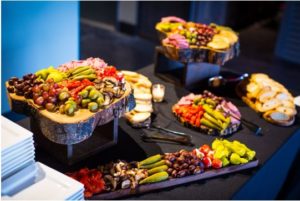 Dallas Catering Rentals: Decorative Display Pieces 
Tree boards have been and will continue to be a popular display pieces at catered events. Coming in a variety of shapes, sizes, colors and patterns, they are perfect for rustic and elegant events alike. The Party Resource also has an assortment of display risers in styles such as bamboo, dark walnut, black acrylic, stainless steel and chrome.
Dallas Catering Rentals: Event Equipment
In addition to the equipment to create a beautiful event, caterers in Dallas need a lot of behind-the-scenes rentals. The Party Resource can supplement your catering supplies by providing an array of rentals, heat lamps, portable burners, event grills, single bay fryers and heating cabinets ready to use!
Don't get caught in a bind this year – The Party Resource is a one-stop shop for catering rentals in Dallas.