Centerpieces can make or break a table setting, but the elaborate tablescapes on your pinterest may not be entirely realistic for your Dallas event. If you're struggling with your tabletop design, Dallas event rental companies have a wide variety of decor and years of industry experience to help guide you to the best selections for your event. To help you pick the perfect centerpiece, we've compiled a list of things to consider before you say YES to your tablescape! Find out how to create the perfect centerpiece for your event below.
1. Leave room for your food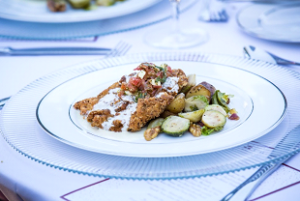 The first thing to remember when choosing a centerpiece is to leave room for your food. If you select large floral displays and elaborate centerpieces it may be difficult to fit china on the table and by the time the second course is served your tables are crowded with china and flatware.
Consider the size of your table settings in comparison to the size of your tables. If you're having a hard time visualizing the amount of space you have left for décor, consult your Dallas event rental vendor or event planner. They will be able to tell you what is reasonable for your table setting so things don't get cramped. Let your caterer know what your tablescape plans are! They may suggest larger tables, different dinnerware, or altering the type of service to accommodate your decor.
2. Think before you DIY
DIY-ing your centerpieces can be a great way to save money on decorations, but have you considered the cost of convenience? When you pay a professional decorator or florist to design a centerpiece you are also employing their inventory of supplies.
Professionals will have a variety of vases, ribbons, glitter, signage and whatever else you may need to create a centerpiece and saves you storage space after the event – not to mention their knowledge of trending techniques/styles! Professional Dallas event vendors know how to source and transport goods to ensure that everything arrives at your event in tip top shape – They will also coordinate with event planners and venue managers to make sure everything is set up correctly at your event. In the case of centerpieces, the price of convenience may well be worth the cost.
3. Budget before buying blooms
Floral displays can eat up a huge chunk of your decorating budget if you're not careful. Growing, sourcing, preserving, and transporting flowers is a huge logistical feat for florists even before any centerpiece design is involved, so their pricing will reflect this. There are a few things you can do to reduce the cost of your floral displays.
Try ordering flowers and greenery in season. The further away a flower must be sourced the more expensive it will be to ship. Consider incorporating native flowers and greenery in your floral displays, or flowers your florists grow themselves
You should also consider selecting larger blooms that take up more room in your display like hydrangeas and lilies and selecting smaller vases for your centerpiece. Your foliage will look full and so will your wallet.
4. Think Outside the Greenhouse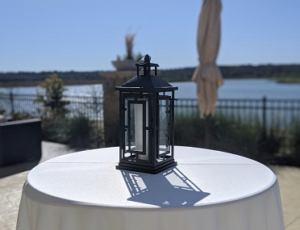 Not every centerpiece has to incorporate flowers. Candles, candelabras and lanterns can easily be rented from Dallas event rental companies to provide modest lighting for your event in addition to decoration. Branded items may be appropriate centerpieces for some corporate events – Dallas event rental companies can help you procure everything you need for your custom-branded centerpieces.
Fun crowds and creative hosts may enjoy something entirely untraditional. Create a centerpiece to match your venue or event theme or even display the art of a local craftsperson at each table. Place mini Christmas trees at the center of the tables at a holiday party or tiny pinatas for your fiesta. Your centerpieces are only limited by your creativity when flowers are removed from the equation.
5. How does your centerpiece impact your view?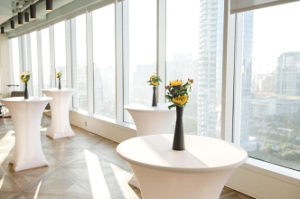 Large centerpieces not only take up a lot of table space, but they also block your guests' views. Guest should be able to view presentations and performances with ease from their tables. Consider your seating chart in relation to the dance floor, stage or wherever the entertainment is taking place. Guests won't want to miss the CEO's big presentation or the bride and groom's first dance.
Large centerpieces can also hinder conversation across tables. Guest should enjoy each other's company while at your event, so give them a head start by allowing them to make eye contact with their dinner partners.
Whether you're planning an extravagant gala or a laid-back social event, creating the perfect centerpieces and décor are an important part of your guest's experience! Before you splurge on your tablescape – remember to consider your budget, theme, flow and style of service at your event! Needing help with your tabletop décor? The Party Resource is more than a local event rental company in Dallas; our team is equipped with a wealth of resources and well-established relationships with leaders in the event industry to help you save time and money while you plan your event in Dallas!
Along with being a rental company, The Party Resource provides a wide variety of event services such as staffing, live entertainment, full-service catering and bar services venue rentals, floral, décor and more. Our seasoned event professionals and long-time relationships with the Dallas area's top venues, meeting planners, entertainment and other event professionals allow us to provide our clients with turn-key event services, making the planning process seamless and creating an event your guests will remember.